---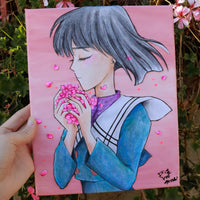 Description:

This is a mixed media piece made with; water color paper, super glue, acrylic paint on canvas, makeup and puff paint.
*please note that this piece is one of a kind and will not be replicated.  
Inspiration: 
I decided to rewatch Sailor Moon during the pandemic LOL.  This is one of my favorite screencaps of Hotaru from the 90s Sailor Moon series. 💖😭 
Process:
Initially I started off on watercolor paper using watercolors but then I gave into my experimental impulses.  I decided to use makeup to give the colors a softer look.  Cutting Hotaru out and super gluing her to a painted canvas was actually a solution to me fucking up the background on the original watercolor paper LOL. I used some pink puff paint for a splash of color and some slight dimension.